Best Massage Guns Australia to Buy in 2023 – Australian Reviews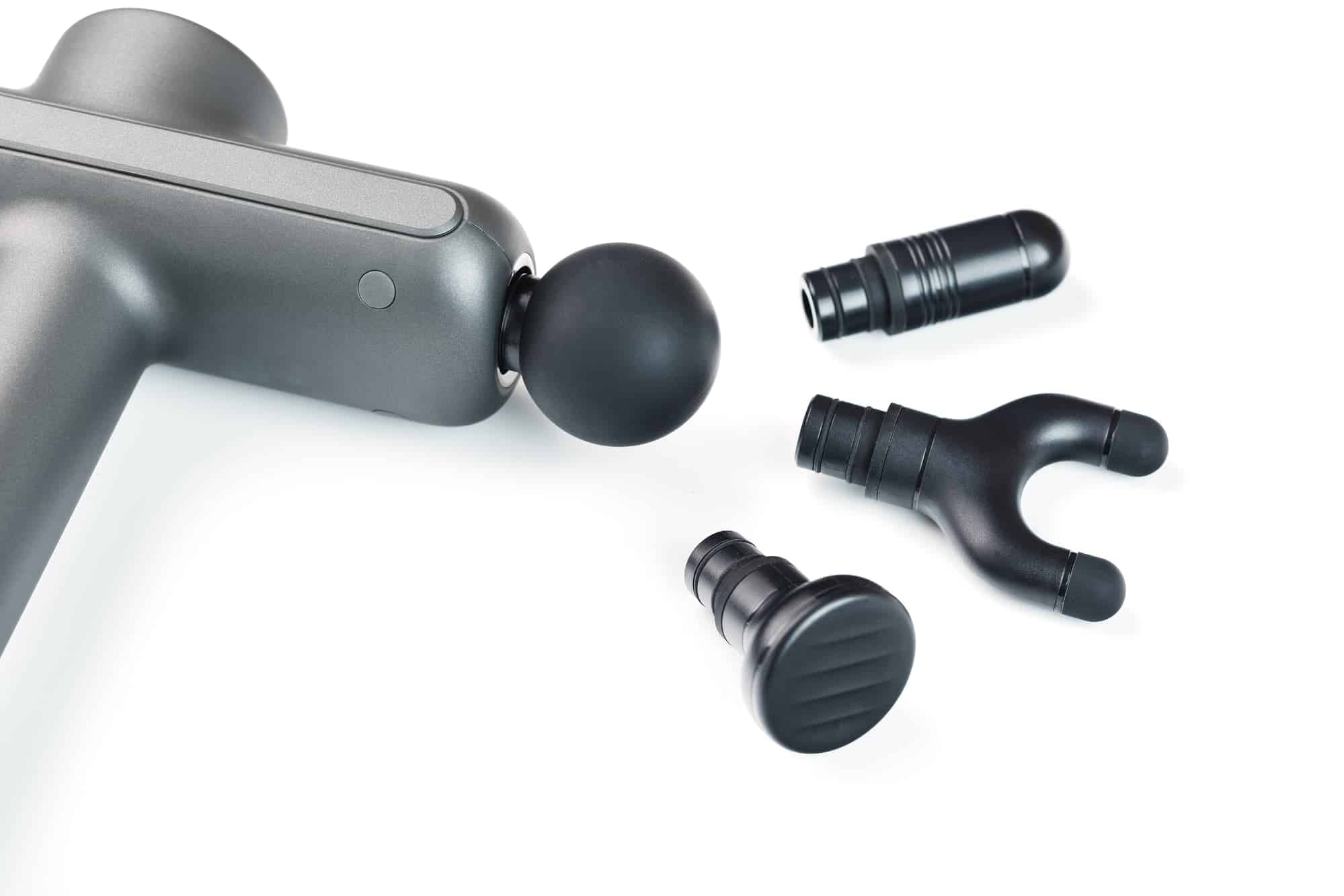 Updated on by Danielle Edenworth
Percussion massagers or better known as massage guns became a highly sought after fitness device starting about 2 years ago. Many brands have since manufactured their very own massage guns that varies in quality and suits different purposes. This can make it hard to decide as consumers on which one is the most suitable recovery devices fit for their purpose.
Fortunately, our team in Healthy Land have tested a number of massage guns available in the Australian market. We have shortlisted and reviewed the top 5 massage guns available in the Australian market, each having a different quality that stands out on their own.
Top 5 Massage Guns in Australia
2023
Model
Model
Healsage Mini Masssage Gun
RENPHO Muscle Massage Gun
Fortis 180° Inversion Table
Max RPM
Max RPM
3200
3200
3200
3200
2800
Massage Head
Battery Life
Battery Life
6 Hours
6 Hours
10 Hours
6 Hours
7 Hours
Speed Level
Speed Level
4 + 4
6
3
5
6
Special Note
Special Note
Get 10% OFF Healsage Pro. Enter "HLAND10" at checkout.
Enter "HEALTHYLAND" at checkout for $20 OFF!
Get 10% OFF Healsage purchases. Enter "HLAND10" at checkout.
-
Enter "HEALTHYLAND5" at checkout for 5% off!
How we tested the massage guns?
Our team of writers and editors researched a lot about massage guns to ensure we are well-informed on the device. We shortlisted these 5 massage guns by testing them physically as well as reading real customer reviews.

We do not only select them solely based on the devices but also on the ease of purchasing journey and customer service of each manufacturer/ distributor.

These are by no means ranked from number 1 to number 5 but rather an overall best 5 massage guns in Australia drawing from our personal experience.
1. Best Smart Massage Gun – Healsage Pro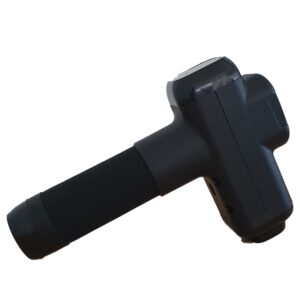 Pros
It features 4 intelligent speed modes on top of 4 adjustable speeds
It comes with a convenient carry case so I can bring it to the gym or during trips
Intensity is very easy to adjust and there are multiple settings including one for deep muscle penetration
It comes with a convenient Australian wall charger
Includes 1-year warranty
Cons
It only comes in one color – black
The Healsage name isn't exactly new in the market – offering an array of excellent units including their latest one: the Healsage Pro Massage Gun. What makes this different from the rest? Personally, I love the fact that it has a sleek and tapered look that's both unobtrusive and modern.
After having advanced to even more excessive workouts, I'm happy that this particular model can match the degree of pressure I need to help relieve muscle pain. The percussion strength is rated with a 12mm stroke length and the intensity can be adjusted depending on my needs. For example, I can choose more soothing 1000 RPM for a normal massage while really bad muscle cramps need a vibration level of as much as 3200 RPM.
I don't know about you – but I definitely love getting a massage while watching in front of my TV or laptop. The 55db maximum sound of the Healsage Pro Massage Gun makes this possible – I don't have to plug in the headphones or turn on the subtitles anymore!
There are six different massage heads that come with the Healsage Pro Massage Gun and they're very easy to attach and reattach depending on my needs. If I want a precision muscle strike – there's a head attachment for that. If I prefer something that works on a wider area – there's also something for that, too.
Moreover, it is not like any other massage guns in the market. It comes with 4 intelligent modes of speed levels – wave, crescendo, AI and fade-out. My personal favourite is the AI mode as it adjusts according to the pressure you apply to the area.
I must say that I am very impressed by this feature, which I have not seen elsewhere. I love the fact that my muscles are not pressed further by holding down the massage gun hard on the same area. The Healsage Pro is one of the smartest massage guns I have used, and I love it.
This healsage massage gun is small enough that it can be gripped comfortably in my hands. The design is also straightforward so that you can move it around and reach even the most awkward areas – like the back of your thighs or that little muscle knots at the back of the knee. The fork shape also means I can use it for common problems areas like the neck and spine.
To top all these off – the model comes with a 1-year warranty!
Get 10% OFF Healsage Pro. Enter "HLAND10" at checkout.
---
2. Best Ergonomic Massage Gun – Hydragun

Pros
Sleek and minimalist design
Ergonomic angle for easier grip and control
Very quiet motor
Comes with 7 attachment heads
Powerful motor of 3200 RPM
Uses premium nanoscale silicone non-slip material
Has an 18-month warranty
Cons
Charging time takes up to more than 4 hours


The Hydragun Massage Gun is a unique massage gun. It boasts of a brushless motor that can reach a 3200 RPM intensity. If you're looking for an intense yet portable massage gun, the Hydragun Massage Gun will not disappoint. Even some professional athletes from Tokyo 2020 Olympics use Hydragun for muscle recoveries.
The first time you see the Hydragun Massage Gun, you'll notice its design. It comes with a slightly slanted handle which I learned is for ergonomic purposes. Instead of a 90-degree angle with the actual massager, it is at 99 degrees.
I thought this was just to look unique, but when I held the device, I realised how easier it is to hold compared to typical massage guns. Who knew that a slight change in angle can make a device so comfortable to use?
Other than the design, the Hydragun Massage Gun is a very quiet one. In spite of a strong motor that reaches 3200 RPM on its highest intensity, its noise doesn't go beyond 50 decibels. Sometimes, it can be as quiet as 30 decibels which is just a little louder than a whisper. You can definitely use this at work.
When it comes to the massage heads, this device has a complete set – a total of 7 different attachment heads. These attachment heads give you an all-around massage. I have used them for my back, arms, thighs, and even a few pressure points. To add to that, there are 6 adjustable speed levels that can customise your massage experience.
Although the Hydragun sits on a higher price point, I can say that every dollar I spent on this device is worth it. It's easy to use and it's very comfortable to hold. There's barely any improvement I need from the Hydragun Massage Gun.
Enter "HEALTHYLAND" at checkout for $20 OFF!
---
3. Best Everyday Massage Gun – Healsage Mini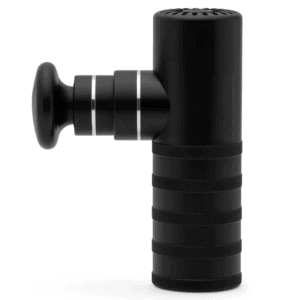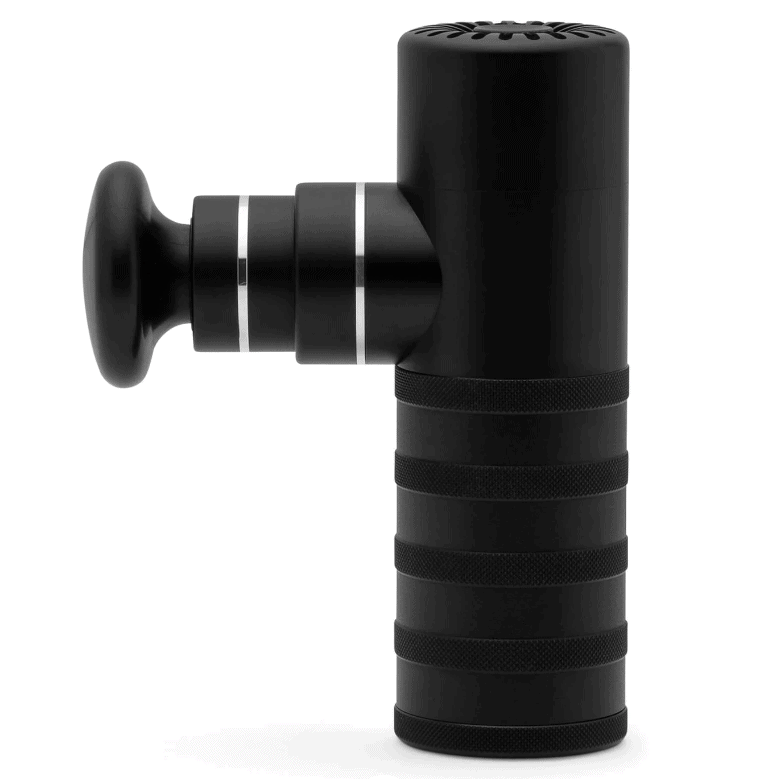 Pros
Small and compact
Intensity ranges from 900-3200 RPM
Comes with 4 different attachment heads
Comes with a carry case
Battery lasts up to 10 hours
Has a 1-year warranty
The Healsage Mini Massage Gun is one of the smallest massage guns you'll ever get to use. If you love going to the gym as I do, then you'll find this very useful because it's so small that it fits right into your gym bag. Even when you're at work, you can easily relax your tight muscles and soothe stiff joints by bringing it out and pointing it to the problem area.
If you expect this to be a heavy-duty massage gun, then let me stop you right there. While it gives a 3200-RPM percussion rate, it can't be compared to the bigger massage guns as they are made for faster and deeper strokes. However, if you're looking for a device that will just give you temporary muscle relief, then this is the device for you.
The Healsage Mini Massage Gun has a very decent battery life of 10 hours on a full charge. This is even more impressive compared to the bigger massage guns because it can last you for a full week. It has a rechargeable battery so that you can easily charge it using the USB cable that comes with the package.
When it comes to the quality of the percussion massage, this mini device has a depth of 50-mm to give you that deep muscle penetration. I find this very helpful because there are just days when my shoulder muscles feel so tensed after a workout or a stressful day at work.
The device only has three speed levels. I personally wish it had more because I want to have more flexibility in finding the speed that works for me. While the three pre-set vibration levels aren't bad, a more customisable approach to massaging would be better especially for some parts that need a more intense massage.
The four attachment heads make up for the lack of speed settings. There's one head to target different body parts. It has one for the spine, the larger muscles, the back, and the whole body in general. These massage heads are easy to attach too but make sure the mini machine is completely turned off before changing them.
Overall, I recommend this massage gun especially if you are always outdoors. If you love going to the gym and can't wait to go home for a massage, then this is a very handy device to bring with you. I know that after several uses, you'll realise that you might not need a heavy-duty massage gun after all.
Get 10% OFF Healsage purchases. Enter "HLAND10" at checkout.
---
4.
Best Lightweight Massage Gun – RENPHO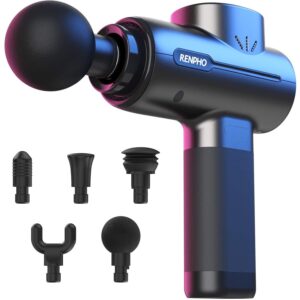 Pros
Lightweight and easy to carry
Lasts 6 hours on a full charge which is longer than average
Heads are easy to attach and change
Uses USB-C for charging so it's easy to charge even with a power bank
Packed with a hard case
Has an auto-off feature to avoid overuse
Has a multi-ventilation system to avoid overheating
Cons
Only has 5 attachment heads
Only 5 different speed settings
Takes awhile to charge
The RENPHO Massage Gun is probably one of the most lightweight massage guns I've ever used. It's only 1.5 lbs (approx. 680 grams) and it is smaller than average. To give you an idea of how small it is, it's just a little taller than your iPhone 11. But even if it's small, this massage gun delivers a total RPM of 3200 and it's made purely of stainless steel. It looks sleek and efficient and I loved every bit of the time I was using it.
Compared to other massage guns, the RENPHO Massage Gun only has five speed levels and five attachment heads. First, the speed levels. Although this is not as bad as you think, you might want to have more options when it comes to speed. Personally, the five speed levels were enough for me since they just have the right levels of massage therapy speed to cover the types of massages you need. You can adjust them by turning the knob at the back of the massage gun.
Second, the five attachment heads. Although all of them were well-built and are easy to attach and change, I wish the RENPHO Massage Gun had more attachment heads included in the package. Nonetheless, all of the heads were useful in targeting many muscle groups like the joints and the back.
Apart from the basic features, what I appreciated the most about the RENPHO Massage Gun are its add-ons. What you would see in this device that you won't see in a lot of other massage guns in Australia is an auto-off feature.
This feature reminds you not to overuse the percussion massager to prevent more muscle soreness. It also has a ventilation area on top to avoid overheating. Isn't that just thoughtful? I've never really experienced it overheating, but it's good to know that certain protective features make it more efficient.
Another feature I think you would appreciate is its ability to be charged using a power bank, specifically a 2500mAh power bank. To charge, you should use the USB-C cord that comes with the package.
Given that you're charging from a power bank, expect that the charging time will be relatively longer than if you would charge it from a wall socket. Don't worry, on a fully-charged battery, the massage gun lasts for six hours which is twice as long as the average massage gun.
When you buy the RENPHO Massage Gun, it will come with a hard case where everything's laid out and organised. It's great packaging and it also keeps the device secured while in transit.
---
5. Best Deep Tissue Massage Gun – Solbasium S2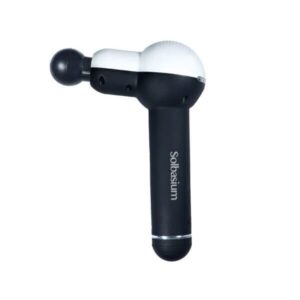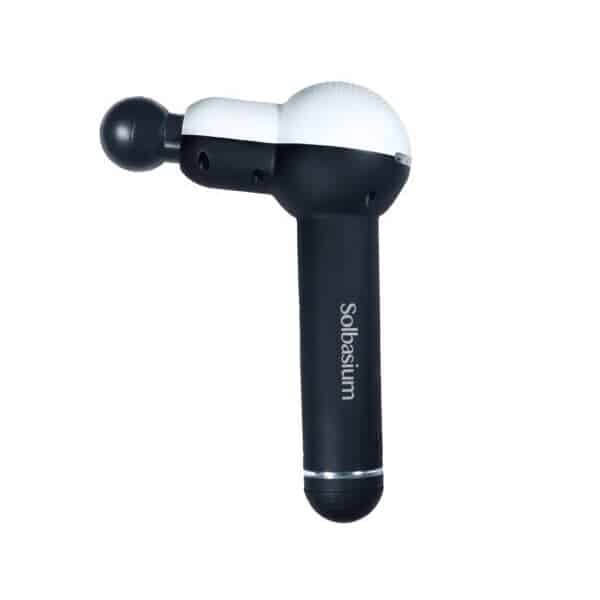 Pros
Allows targeted deep tissue massages
The six adjustable speed gives users more options on how deep they want their massages should be
It's easy to use and lightweight. Its weight is only around 1kg
It has an AC adapter and has a built-in USB charger for mobile device
Handy and easy to hold during massages
Battery life of 7 hours
Excellent customer service
The 1-year warranty they offer is hassle-free
The carry case included is stylish and handy
Cons
There are only four interchangeable heads
If you are looking for a nice massage gun that will relieve muscle stiffness, then you should check out the Solbasium S2 Massage Gun. The brand just keeps surprising its customers with its innovative products. There is no doubt that Solbasium had earned the approval of people who are in dire need of relief from muscle tension.
The S2 is a great pre-workout and post-workout treatment to improve mobility and achieve your fitness goal without overworking your muscles. The stylish and modern design is just a plus with its 13mm stroke length and 26kg stall force, it is easy to understand why people are loving this massage gun so much.
The 13mm stroke lengths will give deep tissue penetration to your muscle compared with other massagers. The deeper the penetration is, the faster your muscles and soft tissue will heal and recover. It also helps in accelerating the release of lactic acid. A buildup in lactic acid may cause cramps and muscle pain.
Most massagers only have three-speed adjustments, the S2 has six variable speed settings that will allow users to choose the desired depth of the massage they need. It's a full-body massager, so, every inch of your body can get a soothing massage they deserve.
It also has four interchangeable heads so, you can find the right shape and size of the head depending on which part of your body you need massaging. The benefits you can get from using S2 are rapid healing, enhancing your athletic performance, increasing blood flow, and preventing lactic acid buildup.
The S2 Massage Gun is handy as it comes with a travel case that you can carry anywhere you go. It is cuboid shaped so it may not be as flat as other cases, but it does offer great protection for the massage gun. The carrying case measures at 12 x 34 x 18cm (W x L x H).
What I really love about the S2 is the innovation Solbasium put into manufacturing it. To operate, I only need to twist the bottom of the handle and a quick press of the speed button (which is incredibly easy to adjust the speed while operating).
Another creative design by Solbasium was to have the S2 operate as a powerbank having an in-built USB charger for mobile devices. What a great idea in case of having a battery drain while working out with no access to other power supplies.
Since it has a 1-year warranty, you can have peace of mind knowing there's no risk involved. Plus, purchasing was a breeze, almost everything you need to know about the product was clearly mentioned and described in the page.
Delivery was fast and secured via Australia Post. The percussion massager was received in perfect condition and with no damage.
Enter "HEALTHYLAND5" at checkout for 5% off!
---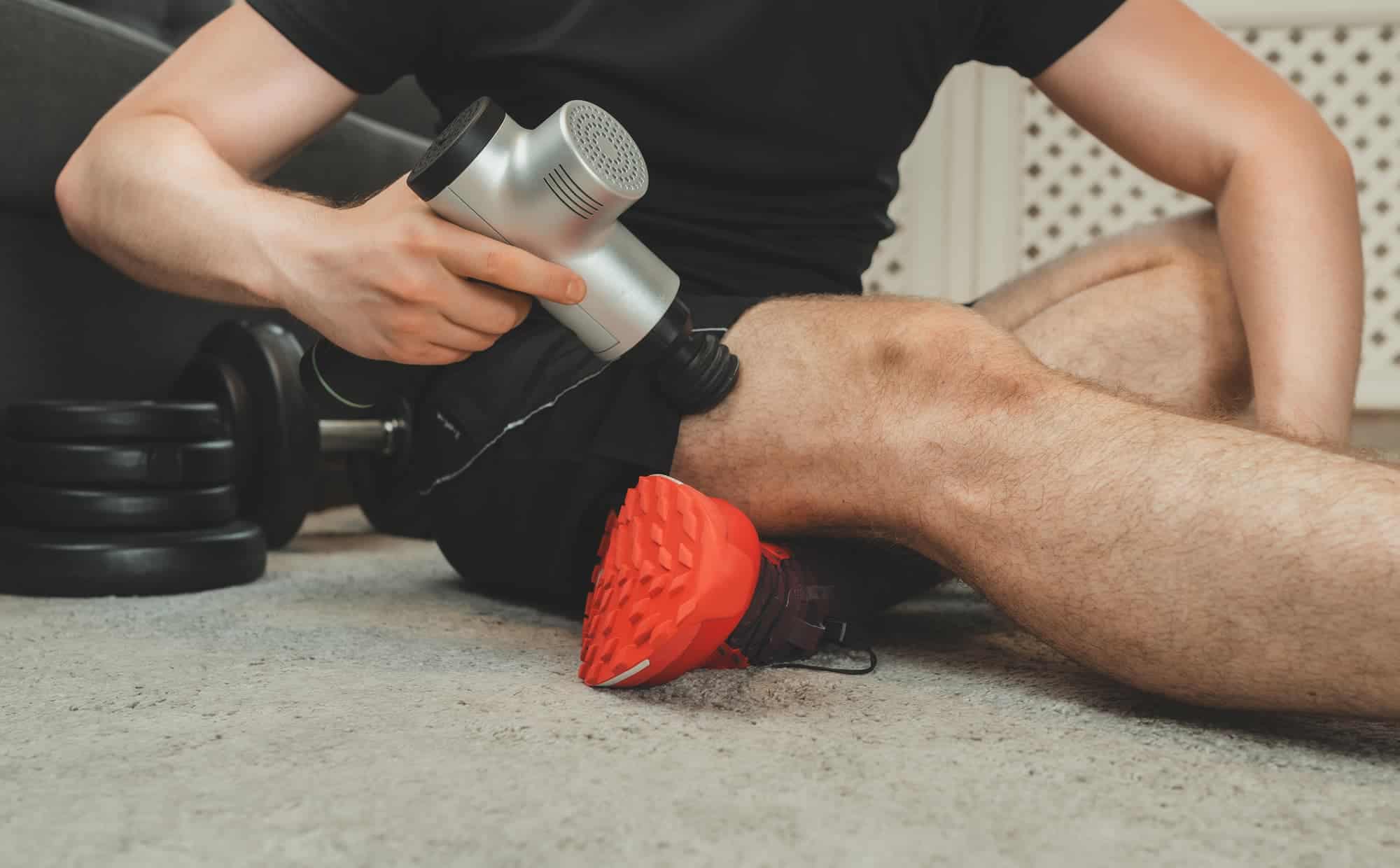 Why You Need a Massage Gun?
A massage gun seems like a fad for some people because it is the next new muscle recovery tool found on a lot of social media posts. However, it's more than that. It has real percussive therapy benefits that can improve your exercises. Here are some of those benefits.
1. Prevents muscle soreness
When you use a massage gun before your intense exercise, you get to wake up your muscles and slowly ease them to an "exercise mode". That way, your muscles have enough time to adjust to your workouts.
Apart from pre-workout treatment benefits, a massage gun can also minimise muscle soreness and reduce the built up of lactic acid that comes after your workout. A few minutes of using the massage gun will help increase blood flow in your sore muscles so that more nutrients and oxygen can help assist its recovery.
2. Reduces recovery time
When your muscles have increased blood circulation, its recovery time will also be shortened. This happens because muscle spasms are prevented. With a massage gun, blood circulation will not be a problem; hence, the length of time you have to recover from is shorter.
3. Prevents injuries
Preventive methods for injuries are better than actual cures. A massage gun is a good preventive tool that will prepare your muscles for strenuous sports performance. Aside from increasing blood flow through your muscles, it also helps break down adhesion, lactic acid and reinforces the repair of muscle tissues.
The movement of the massager allows your muscles to increase its repair making it less prone to injury and reducing delayed onset muscle soreness (DOMS).
---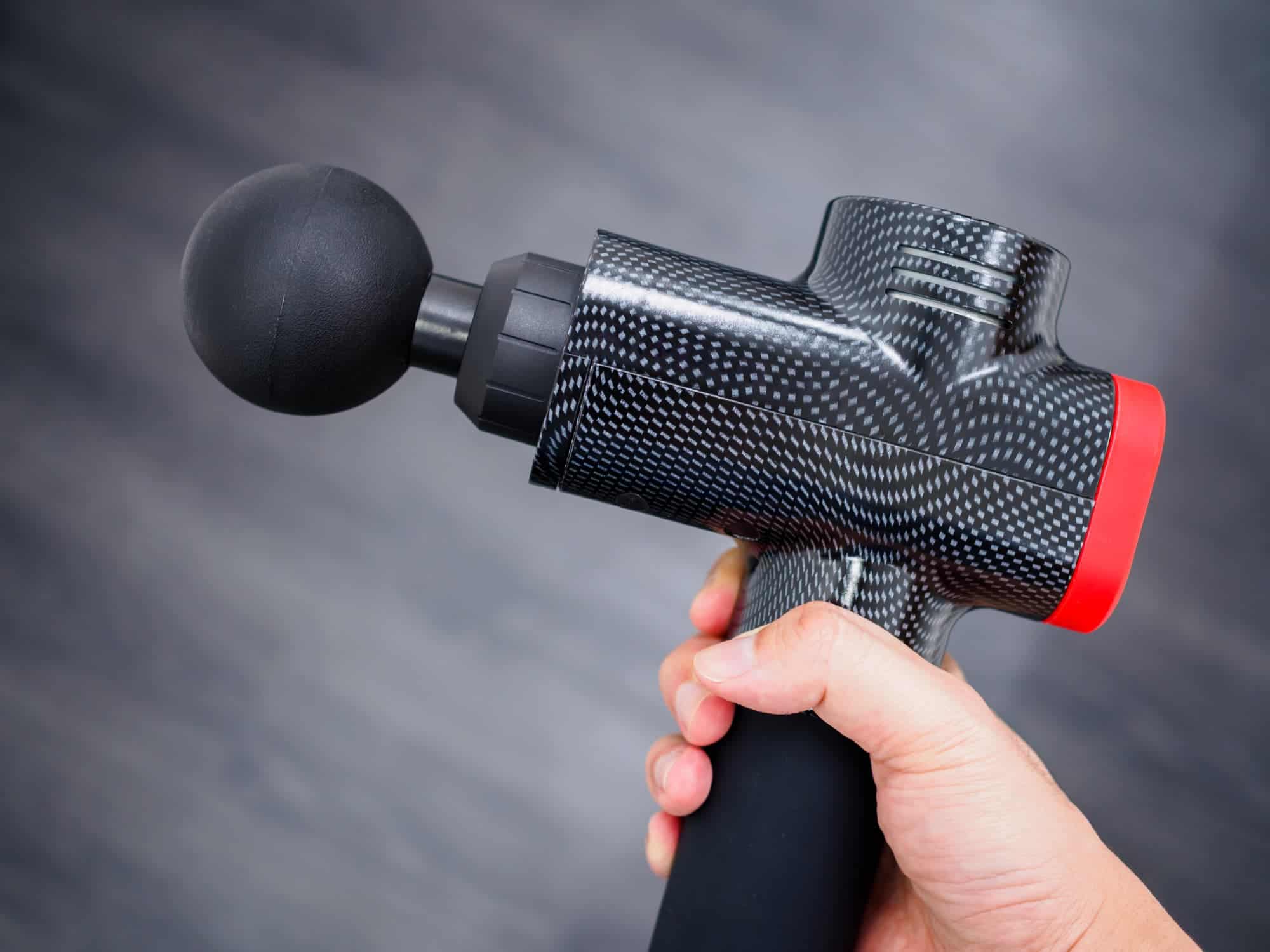 Buying Guide for Massage Gun
Ever since the massage gun became popular, several brands and models started popping out of nowhere. To help you decide the best massage gun to buy, here are a few considerations that I put together to help you make that decision.
1. Design
I'll be honest with you, the first thing that I notice in a massager is the design. Before I even get into know how powerful it is, I make sure that the design I pick is beautiful and functional. If you're going to use the device in the gym, you most definitely want a decent-looking one – not too big, bulky, and heavy.
As for the functionality, it should be able to suit your needs. We have different needs and preferences in terms of design, but I found it especially helpful to use a massaging device with a handle. Yes, there are massage guns that have no handles, so they're not user-friendly to have.
2. Power
When you get hold of the massage gun, the next thing you'll ask is the power. How much power does it have? For this one, you're not asking how strong it will be pushing against your muscles, but you are asking how fast the head attachments oscillate and how deep it gives the massage.
First off, I prefer having a device that has different speeds. Depending on my workout, I want to have a gentler oscillating motion for low-intensity workouts and a faster motion for when I do high-intensity workouts. Most massage guns offer at least two different speeds. Usually, it's better if you choose one that has at least three speeds so you can find a more comfortable speed.
Next, you want to know the depth of the massage it makes. This is measured in amplitude. The higher the amplitude, the deeper the massage will be. In short, it's more intense massages. Even if you're not a fan of deep massages, it's better to buy one with a higher amplitude so you can use it for more effective muscle relaxation and break down of lactic acid.
Take note, though, that a fast massage speed doesn't mean that it gives a intense massage. You can have a lower massage speed but have a high amplitude movement.
3. Portability and Weight
Some would think that portability and weight are not important features, but I beg to differ. Even if you're just working out in the gym nearby, being able to carry your massage gun around makes it convenient. Think about having a device that is so heavy that bringing it in your gym bag is just a hassle.
For obvious reasons, you don't want to be reminded of how much of a weight it is whenever you carry it and take it out for use. Keep in mind that the average weight of a percussion massager without a case is 2-2.5 lbs. (approx. 910 grams to 1.13kg). Anything heavier than that may not be as user-friendly as you think.
To add to that, portability isn't just talking about weight. It also implies that it won't get damaged when you place it in your bag. It's a good thing a lot of massage guns in Australia have a case that comes with them. I prefer buying a model that already has a case because it's hard to find one that will perfectly fit a specific massage gun.
4. Attachment Heads
The most basic attachment head you'll get is the ball head or bullet type. These attachment heads can be used on larger muscles. Personally, I prefer a massage gun that has at least three different attachment heads.
This is because different designs allow for a more in-depth massage in different areas of the body. This provides you with a full body massage like experience. For example, the cone or the thumb attachment heads are better to use on smaller muscles and areas of the body because they're small enough to target specific areas.
5. Noise Level
Another thing to consider is the noise level. When you're at home, it doesn't matter that much if your massage gun is noisy since most of your relatives won't mind. However, if you're thinking of bringing it outside, then the noise level can be very distracting to other people in the gym.
In general, the noise you'll hear from a massage gun would be a low vibrating sound. It's not even annoying to hear. You can hear the motor when the whole gun vibrates. Of course, that isn't enough excuse to choose one that has a relatively louder sound than a low vibration.
6. Price
A massage gun can range from $100 to $2000. While I don't advocate for buying the most expensive one out there, I'm also not a fan of buying the cheapest ones. It's because the price does not guarantee that you bought one on a great deal or that it has a higher quality than the other competitors.
When buying one, my best practice is to set aside a budget I think would be just right for me to spend on a massage gun. For example, I only have a budget of $1000 and that's the maximum I can go. This narrows down my search for massage guns under that price tag.
Apart from thinking of your budget, it's also important to consider the brand of the massage guns. A known brand has a higher addition to the overall price of the device. More reputable companies have a relatively higher price, but most of them also have warranties and customer support.
When you're buying a massage gun, keep in mind that their price should also reflect the after-sale service they provide. Ideally, look for one that has at least a year's warranty.
7. Good Battery Life
On average, the battery life of a massage gun is from 2-3 hours of continuous high-speed massages. Although some models have a cord, I suggest that you look for one that runs on a rechargeable lithium ion battery instead. This will help you worry less about where to plug it. You don't even have to stay by a wall socket for a massage.
Apart from a longer battery life, you should also look into how long you need to charge the batteries once they're all drained. Charging shouldn't take as long as four hours. 2-3 hours of charging is the most ideal.
8. Warranty
In my experience, a lot of massage guns in Australia have a one-year warranty especially if the brand that made it is trustworthy and relatively popular. Most of those who don't have a warranty are no-brands which can be quite risky to buy because there's no guarantee of the quality. You also don't get much customer support.
Just to be on the safe side, it's better to choose a massage gun that has a guaranteed one-year warranty from the day you buy it.
---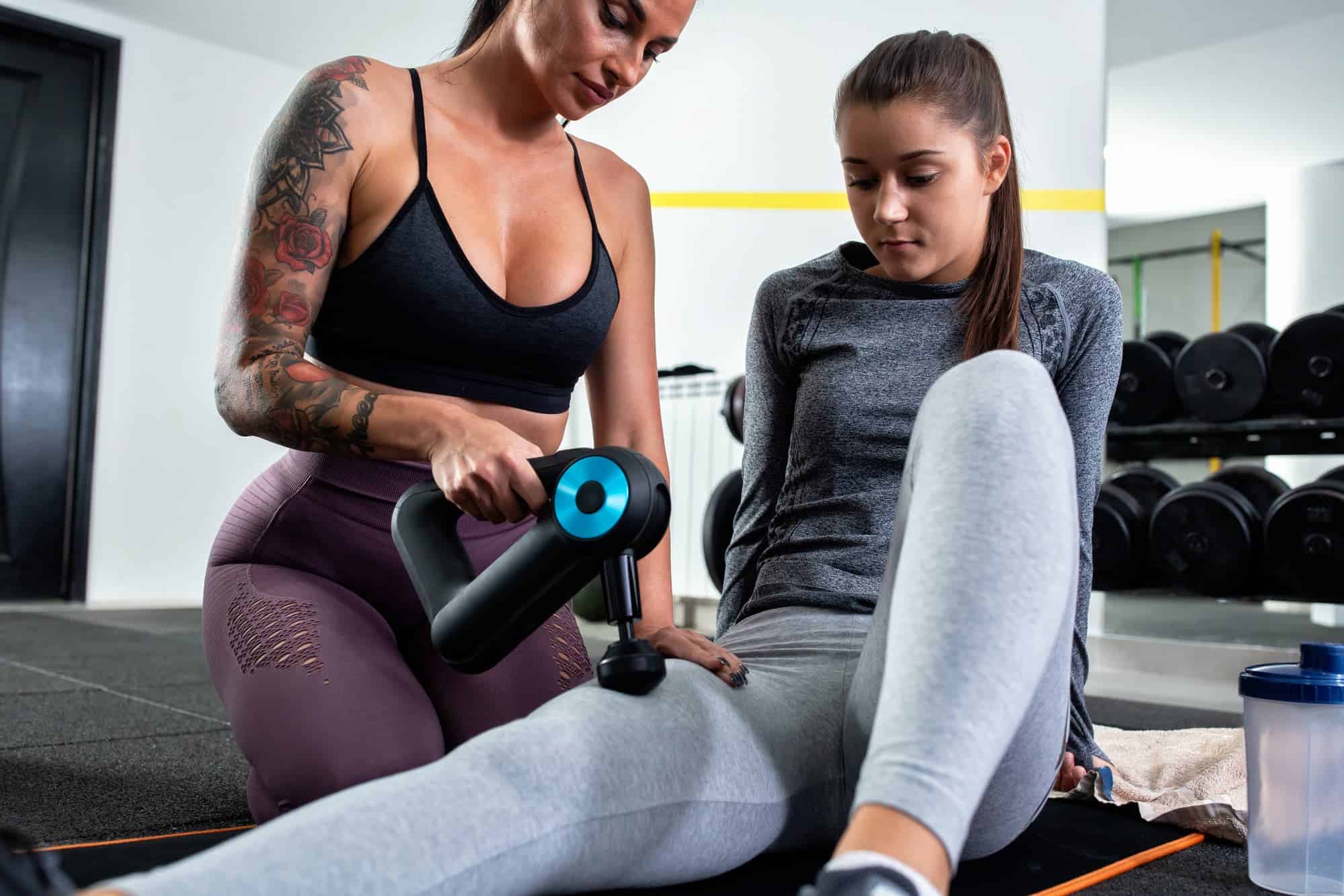 FAQ on Massage Gun
1. Are massage guns effective?
Yes, massage guns are effective as far as muscle soreness or build up of lactic acid in muscles is concerned. While there is not enough scientific evidence to show this, several physicians have claimed that a massage can help in reducing soreness because of its deep tissue massages. It should not be always a substitute for getting a massage, though. But if it's immediate soreness relief you're looking for, this device does the trick.
To make a massage gun more effective, don't overdo it and keep it oscillating in the same muscle area. Just remember to not overdo it on every muscle you apply it to.
2. What do massage guns do?
Massage guns provide deep tissue massage through their oscillating movements. It usually has several different speeds and attachment heads that will apply a deeper massage to the muscle group.
The main function of massage guns is to reduce muscle soreness. It can be used for pre- or post-workout recovery. With its oscillating movement, it reinforces proper blood circulation in the muscles. This means that the muscles will receive more oxygen thus helping in their recovery. Other than increasing blood flow, massage guns also reduce tension in the muscles and relaxing other tendons and ligaments that might have strained during exercise.
3. Can you use a massage gun on yourself?
What's great about a massage gun is you can use it on yourself. Although I find it hard to use when I want to massage my back because it puts me in an awkward pose with my hands. Apart from the back, you can use the massage gun to relax your muscles on your arms and legs.
To start, you turn it on to the speed level and depth level that you prefer and place it on your skin. Keep in mind that you should not be using this too long in one area to not overwork the muscles.
4. How long should you use a massage gun?
A massage gun should not be used for longer than 15 minutes. Even if you think your muscles need more of the oscillating motion from the massage gun, don't be tempted to do it. Why? It's because spending longer than 15 minutes using a massage gun can harm your muscles and tear more of it than recovering it.
In those 15 minutes, you are only supposed to spend two minutes on each muscle group. During those two minutes, you have to move up and down the area to ensure that you work every part. Don't apply pressure, too.